August is here and would you believe that the current Youth Ministry has been going strong for six months?  I can't believe how fast time has gone!  We have really done some great stuff this summer and I know God will continue to bless us as we grow our ministry.  With school starting, we will begin a rotating schedule of events to keep things consistent during the school year and to help us better serve you, our parish and the community.
Moving forward into the fall, the first Sunday of the month we will show  films. This fall, the films will focus on  social justice, martyrs and faith .
The Second Sunday will be for prayer and scripture.
The third Sunday for service
The 4th Sunday will be for High School age students only (small faith group, activities etc.)
On months when there is a 5th Sunday we will return to the Humane Society to volunteer.
Information for these things will be detailed individually in the newsletter and on our calendar.
Of course I always welcome feedback and ideas from you!  This is YOUR ministry and I want to hear what you need from me and/or your parish to help you grow as disciples of Jesus.
For those of you reading this who haven't come to ChrisTeens Youth Ministry yet, please take a look at our calendar!  Pick a Sunday to join us and be a part of this growing ministry!  All Are Welcome!
Also, We are beginning our fundraising efforts to send youth to the Nation Catholic Youth Conference.  We have 4 youth currently committed to going.  Ashlee Velasquez, Bianca Reyes, Isabella Bennett,  Elizabeth Ladnier and a chaperone.  The cost is $495 per person plus meals.  We are hoping to raise $3000 to cover all costs.
We will begin with hosting Coffee & Donuts on August 13th.  All donations will go to NCYC trip fund.
We are also going to be selling t-shirts.  These shirts will have the name of our church on the front and scripture on the back.  They will be available in English and Spanish.
On 

September 10th

 we will be hosting a pancake breakfast for the entire parish.
If you have any questions or want more information about Youth Ministry, you can contact me via email sjpc.youthministry@gmail.com , phone: 270-683-5641   I am happy to talk to you or your parents about Youth Ministry!  You call also follow us via Facebook, Instagram, Twitter and Snapchat.
I look forward to seeing, working and praying with you this month and I hope you are as well!    – Aynde Bennett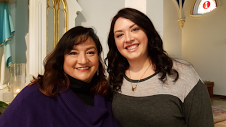 Aynde Bennett & Kindle Young
Youth Ministry Coordinators
Sts. Joseph & Paul Catholic Church