Melvin Fleischmann is a long standing fixture of Sts. Joseph and Paul Catholic Church. Long standing as in 1946, when he and his wife Maxine became members over 70 years ago! At 88 years old, you will see Melvin serving as an altar server at funeral Masses and then delivering plates of food from the bereavement meal to the home bound. Every other Friday, you can catch Melvin making communion calls to many of our parishioners who are home bound. He loves to visit during these communion calls and many times takes extra reading material, including the bulletin.  Each Friday he spends an hour in adoration and many evenings will lead the rosary before daily Mass.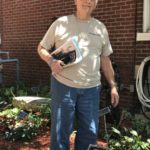 To say that Melvin is a good steward is quite an understatement.  His stewardship started as a youngster because he says that is the way he was raised and "you have to share when there are twelve children in your family!" It sounds like his stewardship really kicked into gear when he and Maxine adopted two girls, then had 3 biological children, and then in the course of 18 years, fostered 45 children! It's hard to imagine having a place in your heart for 50 children, but it wasn't to Melvin and Maxine. Melvin says "That's what life is about, sharing what you have. All that we have comes from God so it is only right that we give back all that we have.   I've learned to trust in God, even more now than before my wife's passing in 2015."
Some of Melvin's gifts to others through the years include: cakes, jams and jellies, pecans and pecan pies, and about 99% of the harvest from his garden. Thank you Melvin for being a wonderful example of stewardship to your friends, family, and parishioners.